Next Show Saturday & Sunday 29th & 30th July 2023
Saturday 11.30 – 5.30 & Sunday 10.30 – 5.30
The Show is a combination of a traditional flower and produce show and a country fair, with something for everyone and if you like shopping we also have 85 trade stands.
The feedback from the public, traders and entertainers for the 2022 Show was fantastic
"What a great summer spectacular show … even to the point of amazing … so busy … great organisation … so many happy faces … and as for the exceptional Hogg show … Giant Tortoises, Sheep and so on … captivating … and others … they will be remembered for their outstanding contributions.   Thanks to the organisers, what a day   When Portishead puts on a show for all ages it does so with thought dignity and pride … just amazing not forgetting meeting up with so many happy folk … it was a great reunion!"
"It was my first visit and I was shocked at how many people were there and how well organised it all was.
Shetland Performance Display Team   "Thank you for having us. We had great fun
"
We have lined up some fantastic entertainment for our 2023 Show – details to follow shortly.
The Countryside
The 2022 included the The Hogg Show, a Mobile Farm, the fabulous Aldabra Tortoises and the Shetland Performance Display Team. We also hosted the Portishead Annual Fun Dog Show
Refreshments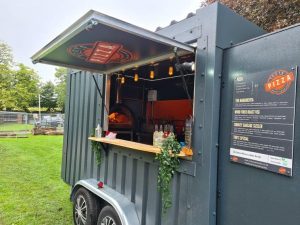 We have our own refreshment tent in addition to freshly made sourdough pizzas from Woodfired Events, traditional ice-cream and waffles from Millards of Weston Super Mare and Fizz Box Bar sell Prosecco, beer, cider, wine and Pimms.
Music & Entertainment
Chicken Teddys, the Barnacle Buoys and a local band from Portishead – Mickey Finn in addition to the Stepping Stones School of Dance, McClennan School of Irish Dance and Children's Fun Sports with S4K,  also have Punch and Judy Shows on both days, which are popular with the children and adults!