Trade Stands
Trade Regulations and General Information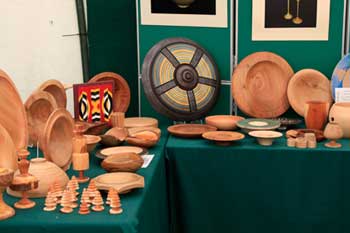 The prices quoted were for 2021 and will be subject to an increase for the 2022 Show.  The price is for a stand 3m x 3m, so if you require more please ensure that you request this and pay the appropriate fee. A power supply can be provided but capacity may be limited, so please book early.  Please note no food stands are permitted to sell food for consumption at the Show unless specifically authorised by the Committee as a concession.  The hot food and drink concessions for consumption at the 2022 Show have already been arranged.
All trade stands carry the award of a Perpetual Challenge Trophy.
Prior to applying please ensure that you have read the regulations given below.
Please note that we have our refreshment team and limited concessions and therefore DO NOT accept applications from catering vans and NO Arena Event type events can be booked other than via the Arena Events Secretary.
Prices – per stand 3 x 3 metres
In Marquee  
Outside
Class 1 Horticultural Traders & Horticultural Sundries
£70
£50
Class 2 All General Traders
£70
£50
Class 3 All Recognized Charities    (includes 6 free passes to accommodate volunteers or 12 limited passes)
£70
£50
Power supply = £10.00 each sockets
Tables = £ 7.00 each
Chairs = £2.00 each
Limited Passes = £2.50 each
All Cheques to be made Payable to Portishead Horticultural Society (PHS) – BACS payments can be arranged, please call Trade Secretary
Regulations and application form – please note these are subject to review as we have a new Trade Secretary